We are very proud to present our new 2022 parasols. This collection was produced entirely remotely, a first for ELPC and a testament to our relationships with suppliers forged over the past 6 years.
"We've continued to work with artisans in India, Indonesia and carpenters here in the UK. Last summer was meterologically miserable and it was inspiring and expansive to work with beautiful colours and patterns, and to look forward to sunnier times ahead. We hope our colourful new designs lift spirits and herald a summer of sunshine."

Lucy Ferguson
Designer & Founder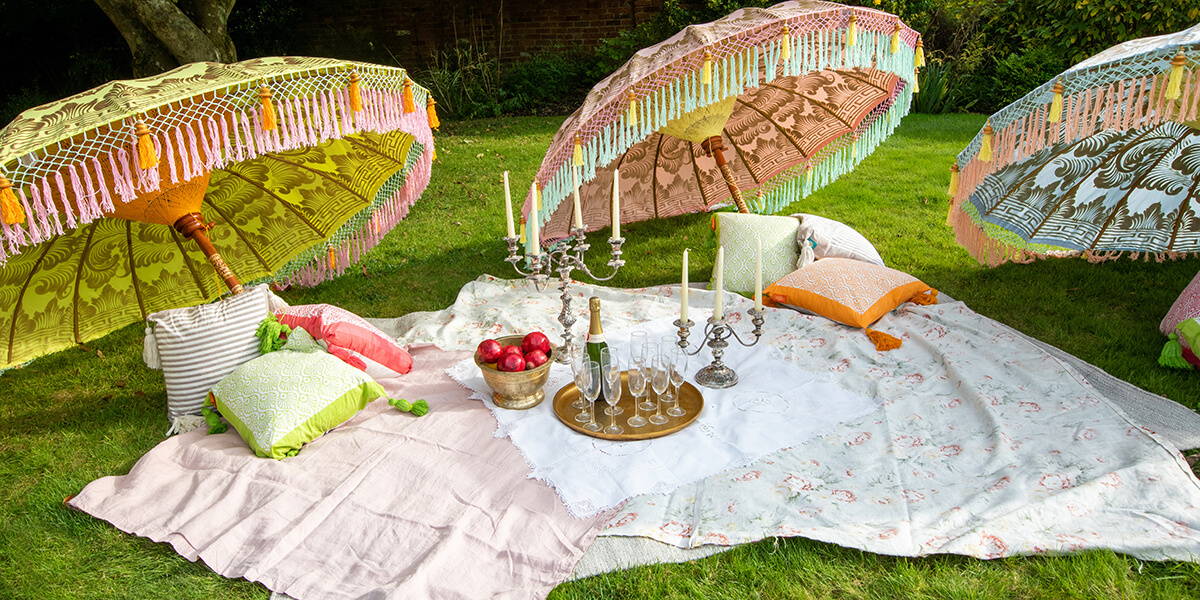 "Our new pastel tones, candy stripes and green polka dots are summery classics- easy to style and timelessly pleasing in a garden, influenced by the 1950's images of Hollywood high society taken by Slim Aarons and the Harajuku fashion movement in Japan."
Designing in the UK, in London, in and out of lockdown has brought a new set of challenges. Computer screens and phone screens can show colours differently so our suppliers worked from our swatches, sketches and mixed paints sent by slow, old fashioned post. Their talent, attention to detail and passion for what they make has produced a collection we are more proud of than ever, as it's been so difficult to create.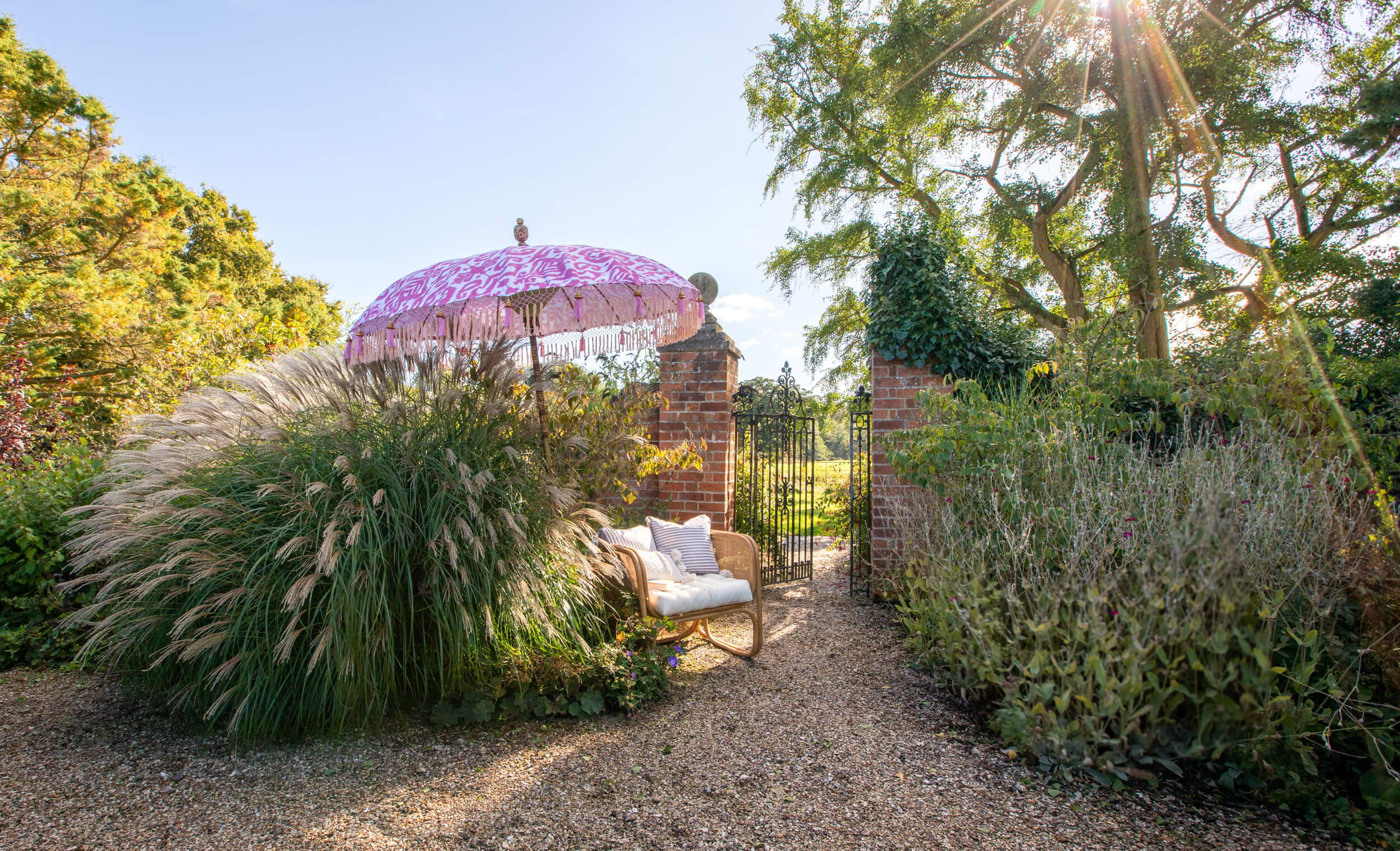 The new pink print called Sophia is the realisation of a design dream. The pattern is based on an incredibly intricate traditional dyeing and weaving technique called ikat, famous in both Indonesia and India. I fell in love with it on a visit to the Indian desert on the border with Pakistan during my last trip there in 2020, and this is a screen printed homage to the traditional ikat textile.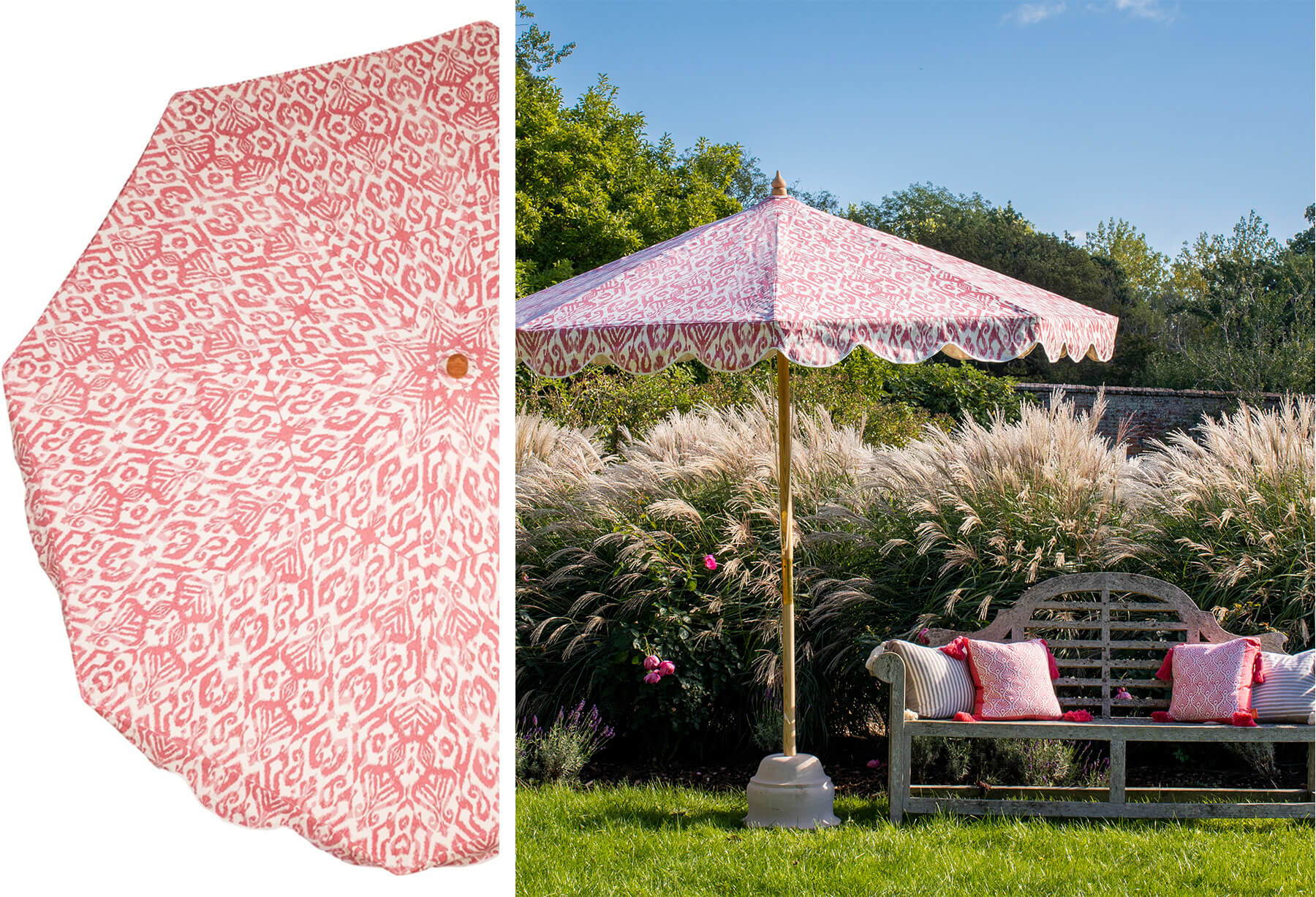 A collaboration with V&A exhibited British artist Harriet Popham.

We worked together to create a whimsical, playful interpretation of traditional chinoiserie and willow pattern. This tells the story of East London Parasol Co so far, the design incorporates visual elements of India, Bali and the UK and within it you can spot temples, elephants, tigers and the London skyline along the Thames.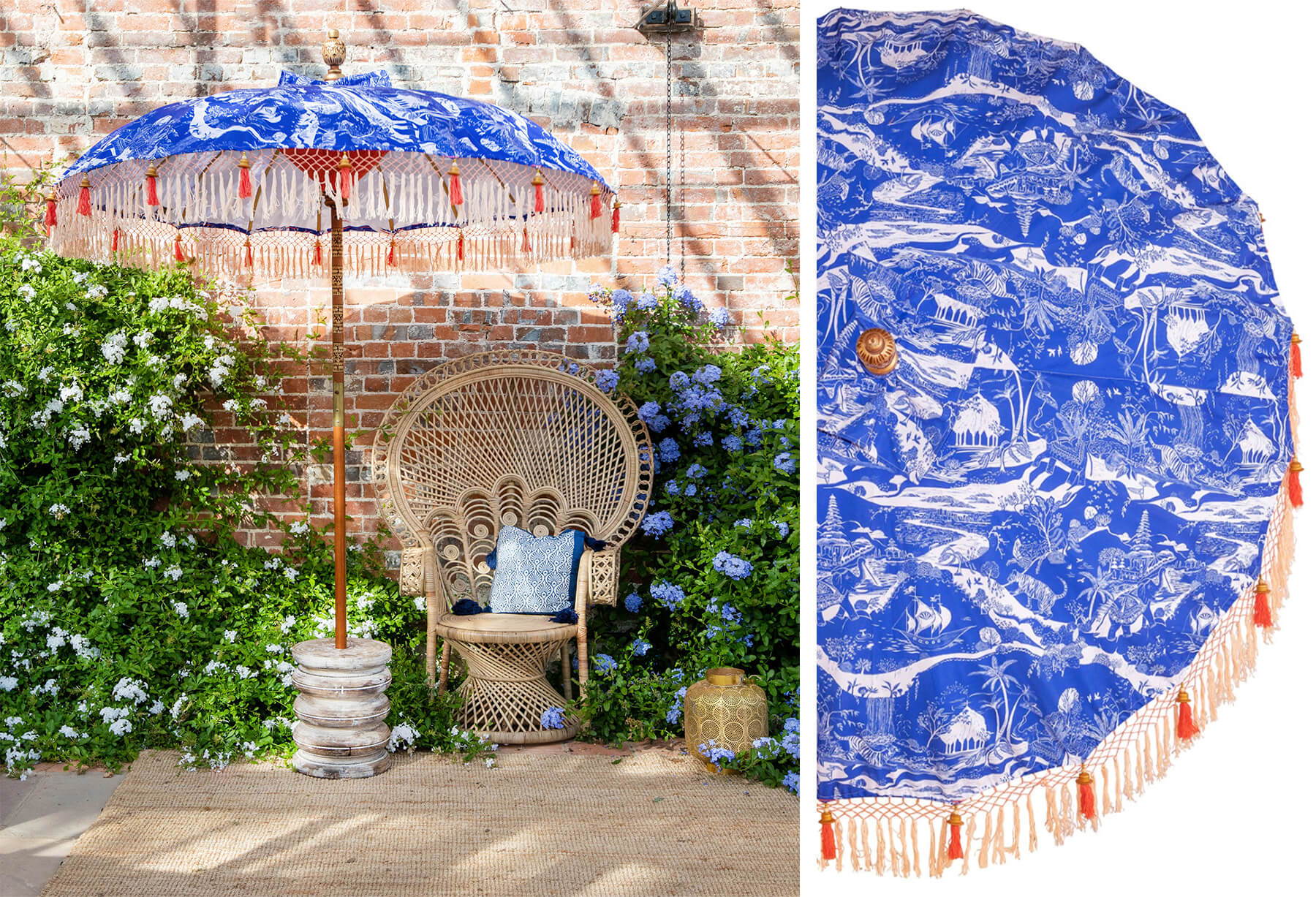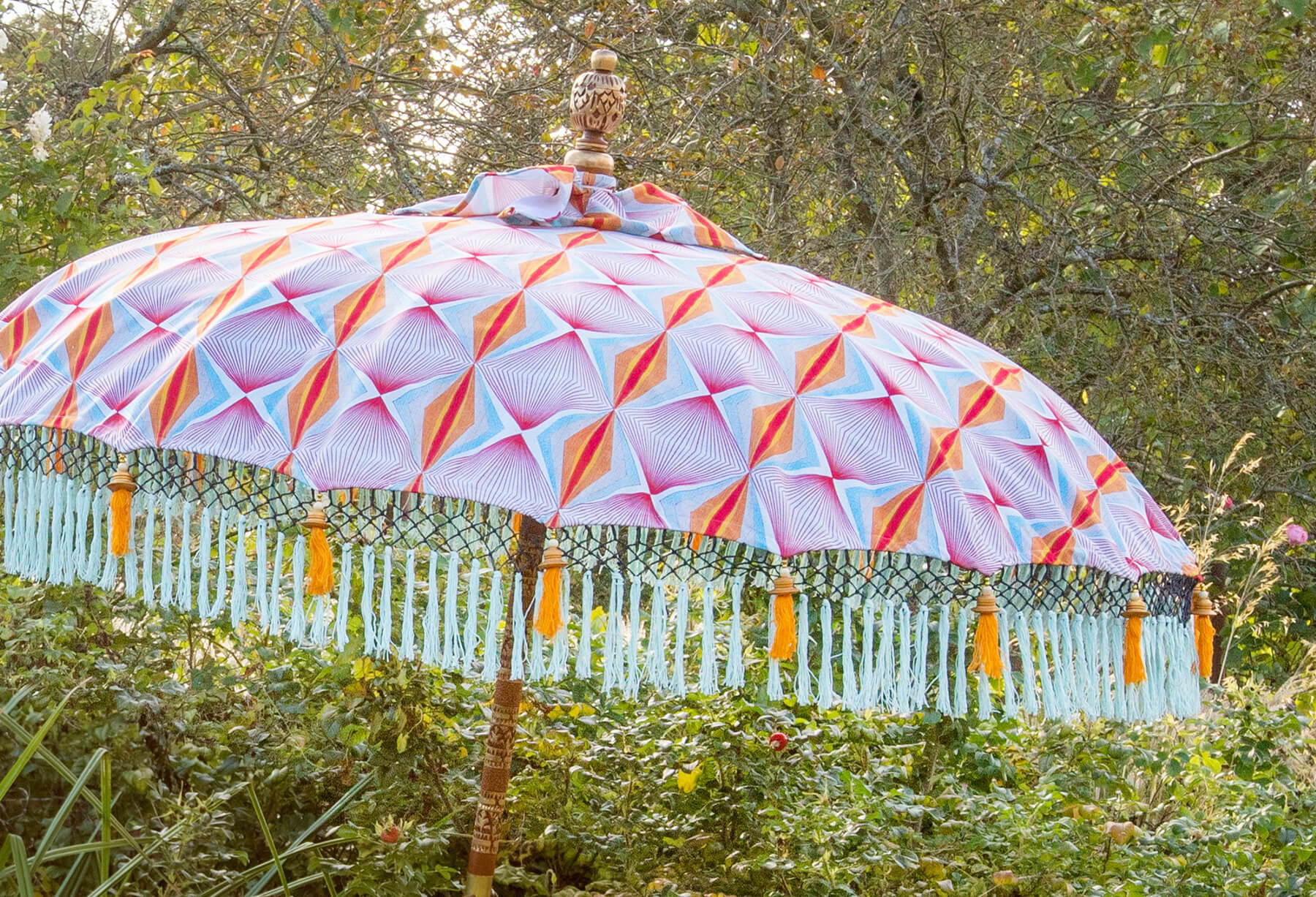 "The geometric design, Roo, was based around a spirograph drawing. When we turned it into a pattern it produced a wonderful 1970's style print which perfectly compliments our new square cane and bamboo chair"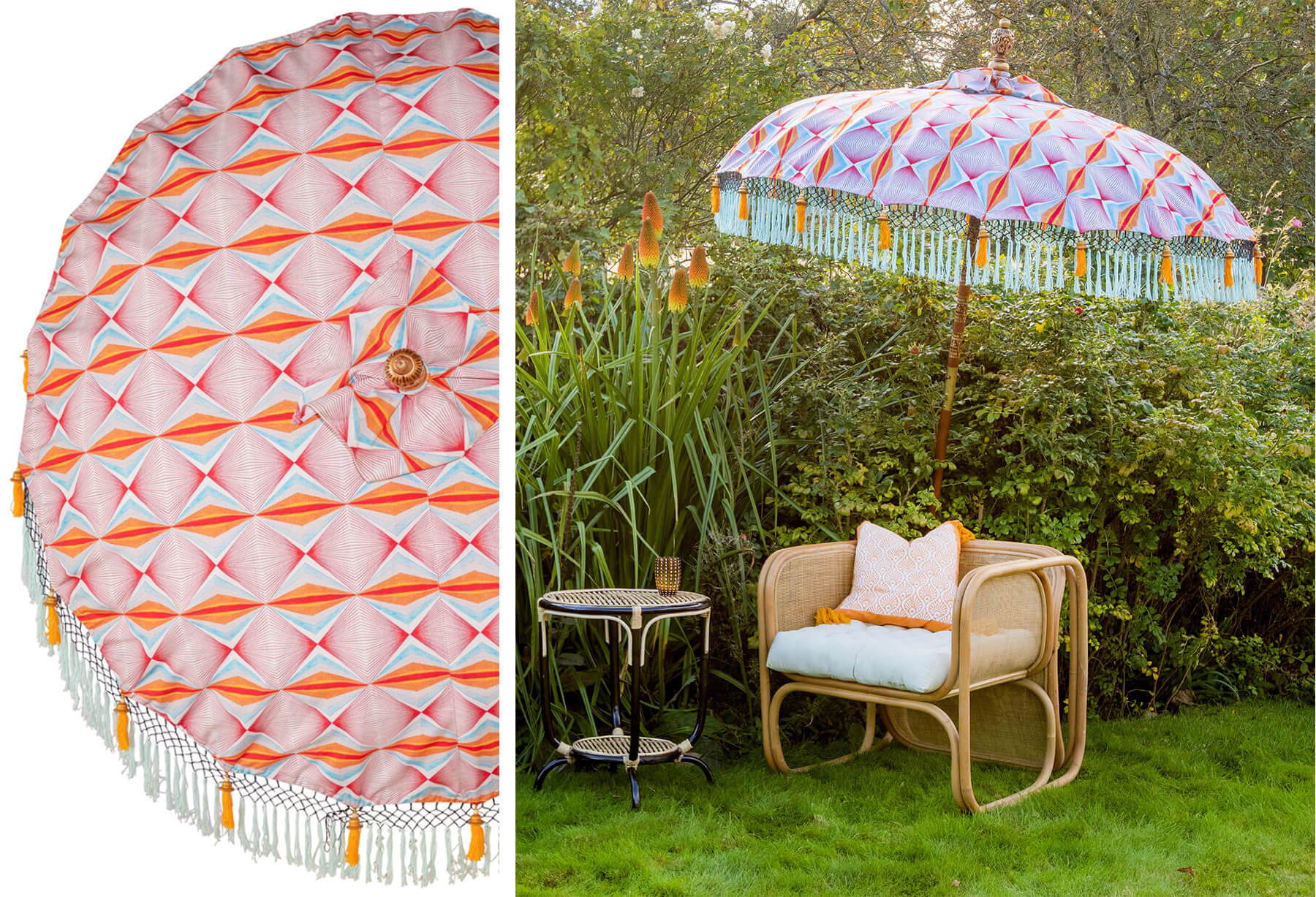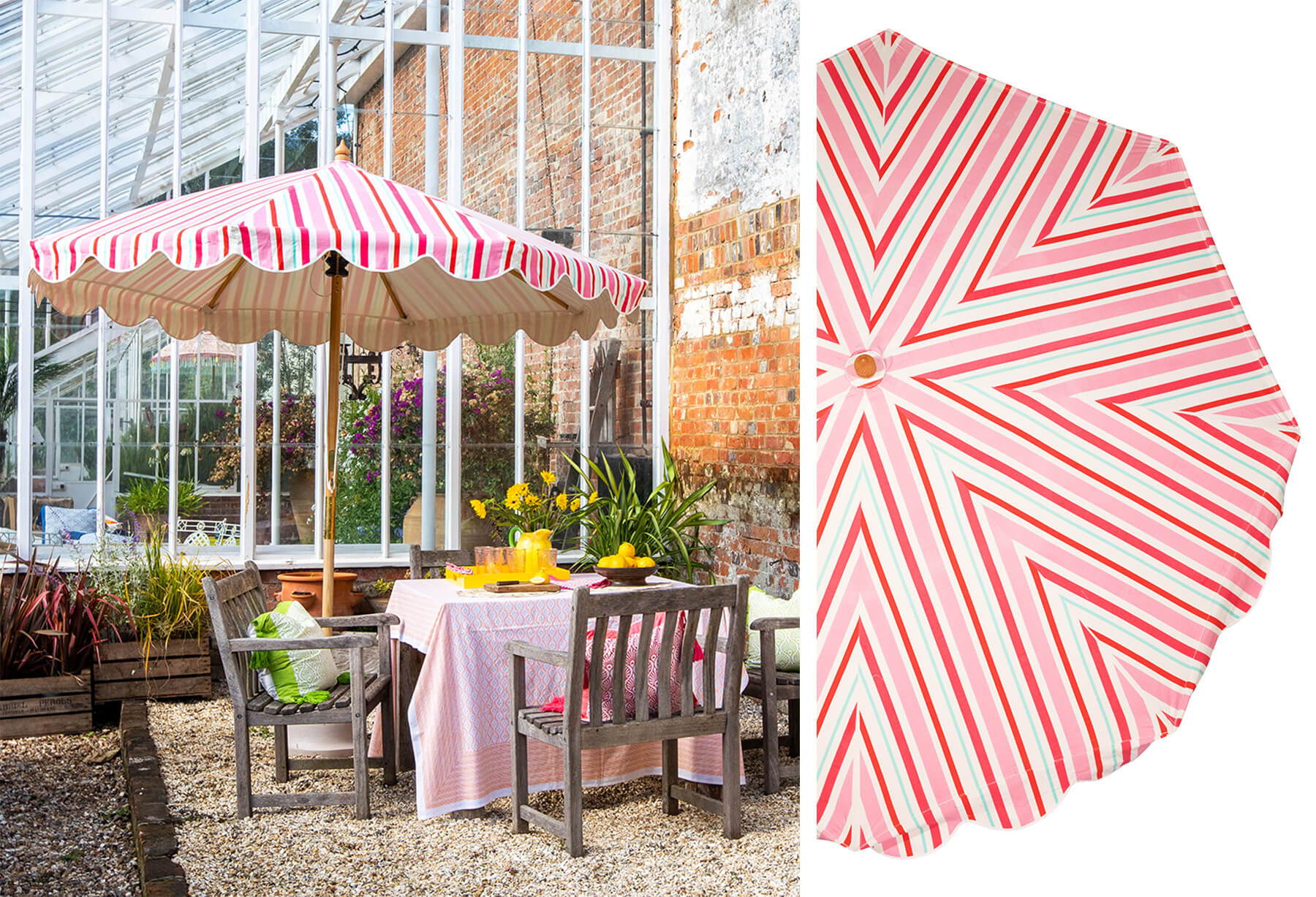 Our new Molly parasol brings all the fun of the beach to your garden. The candy stripes are elegantly kitsch, they encapsulate a playful summer vibe and are an easy way to bring bold pattern into your garden. The beauty of stripes is that they work in any setting- they contrast with a soft foliage, compliment a colourful aesthetic and lift a neutral space. The scalloped edging is timeless and adds to the beach-hut look of this lovely parasol.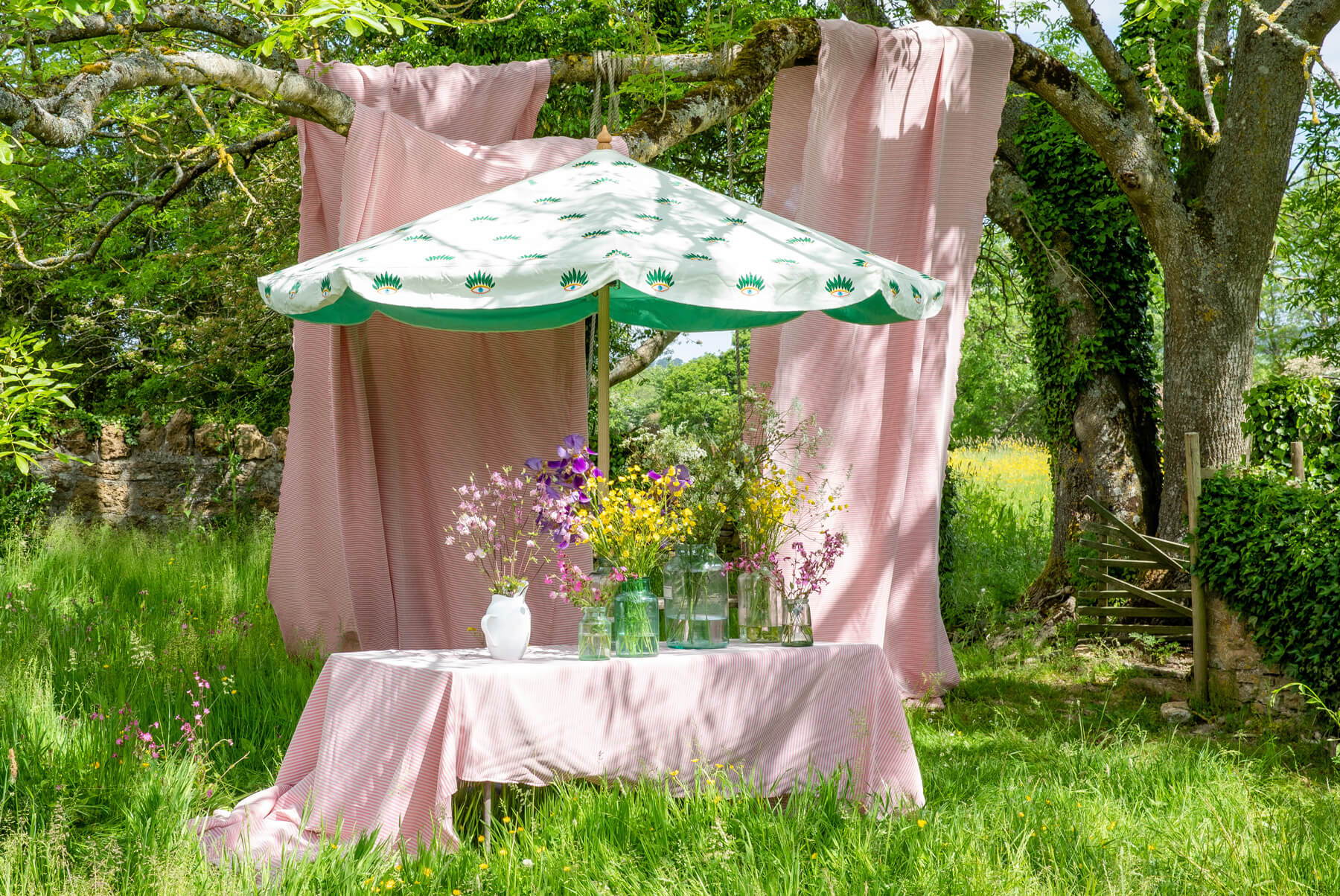 Our octagonal parasol canopies are screen printed in Rajasthan, they Velcro at the corners for easy cleaning.
"The frames are handmade in Hampshire from FSC certified ash wood with our own designs of brass fittings and pulleys. They're available in 2 and 3 metre widths"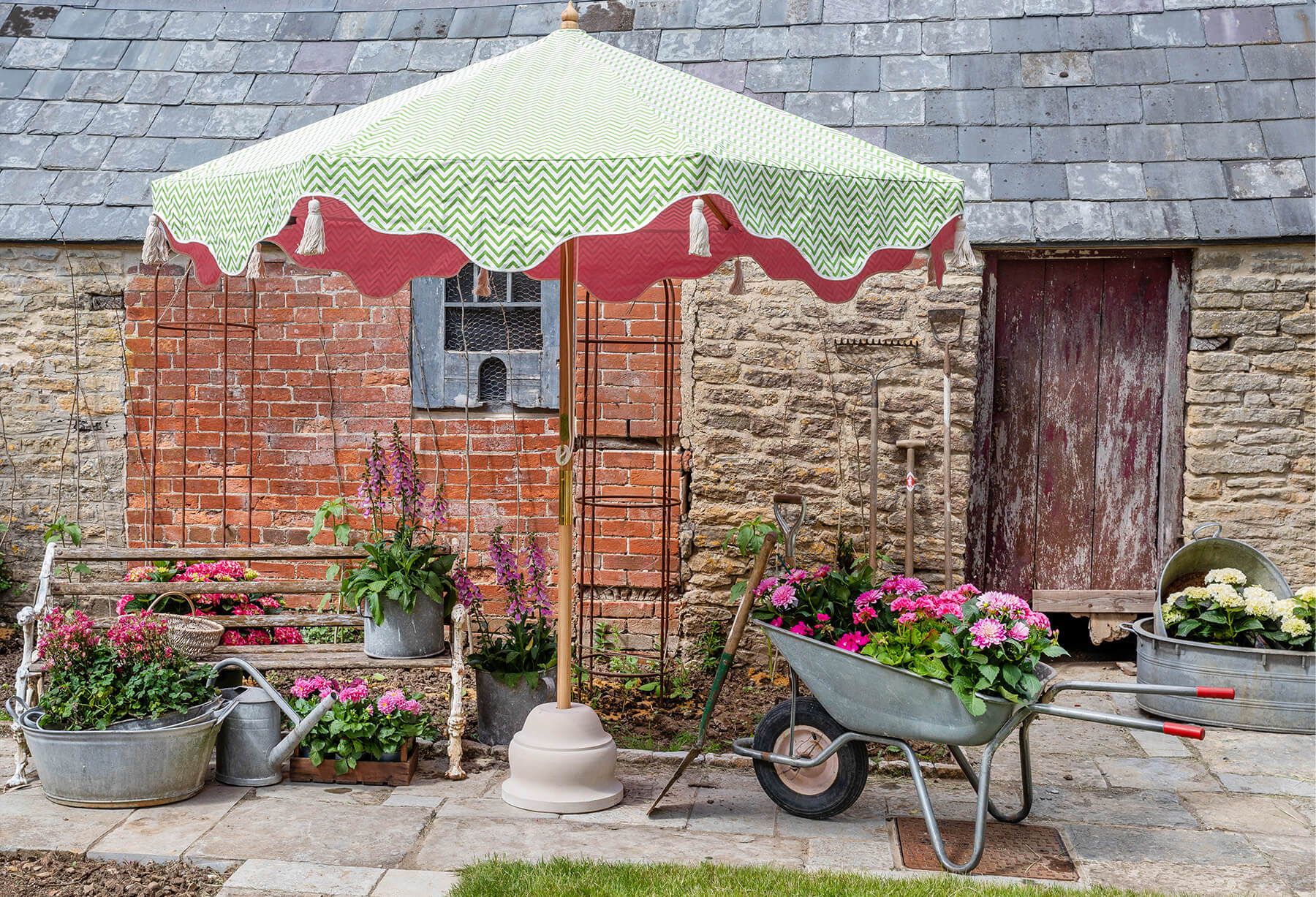 Production and sampling have been very difficult recently. I'm incredibly grateful to the wonderful, conscientious people I've worked with for nearly 5 years for their hard work. These craftsmen and women are really proud of what they make and particularly love seeing photos of your parasols at home; it is joyful to share these pictures with them.