Whilst living in Kerala, southern India, Lucy saw decorative parasols used in religious celebrations. Inspired by the riotous colours she bought her own to celebrate under, little knowing this would lead to a business. On her return to east London she continued to celebrate under her parasols and soon no occasion was complete without one.
"I have now been going to India for 23 years and spent a decade of summers at festivals, I've been incredibly lucky to spend time in these colourful, beautiful and creative places which have really influenced my taste and style.
My aim was to make something full of joy which would put a smile on people's faces and make them feel fabulous. I wanted to inspire people to embrace colour and theatricality. And what is more cheerful and fabulous than a flamboyant sun parasol?"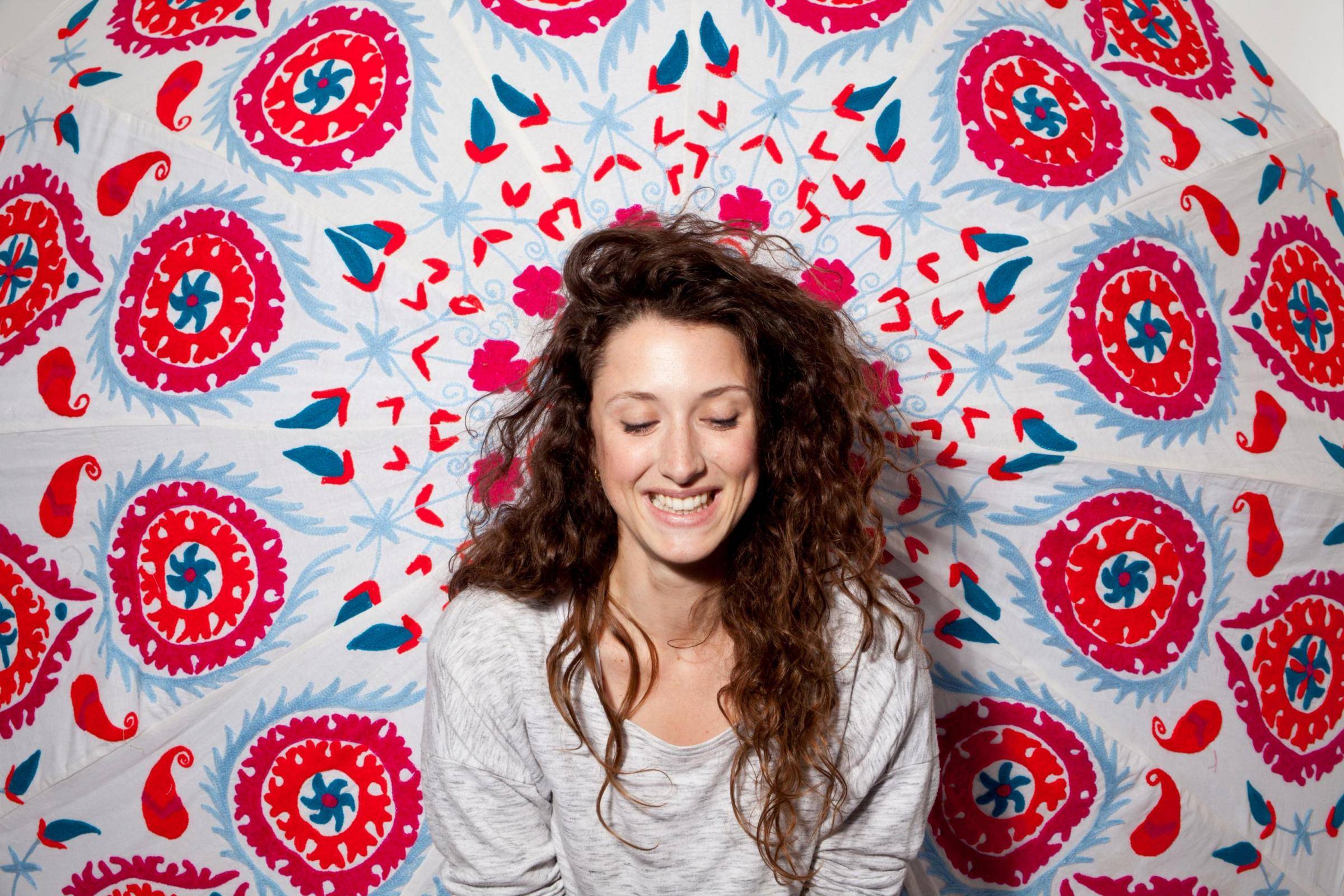 Lucy Ferguson founder of East London Parasols
"I work closely with artisans in the UK, Bali and Jaipur. At the moment I spend 7 months a year travelling between India and Indonesia sampling, working on the production and quality checking. The relationships I've developed with my suppliers have become a joy, they know my friends and have met my parents and I know their families too. It's become a partnership and they're incredibly proud of what we create together."
The silver fringes are made in Kerala by the temple umbrella makers and have been flown to Bali and become part of their traditional parasols. The canopies are made by talented people using hand block printed cottons from Jaipur and hand-painted fabrics from Bali.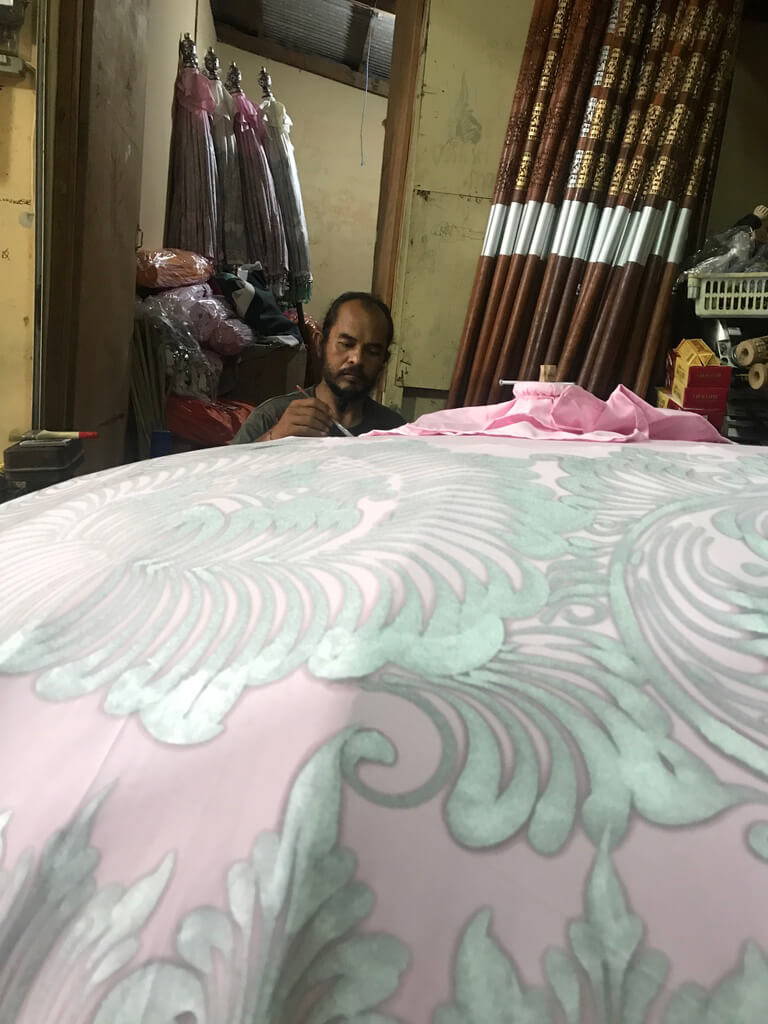 Wayan hand-painting our round bamboo in Bali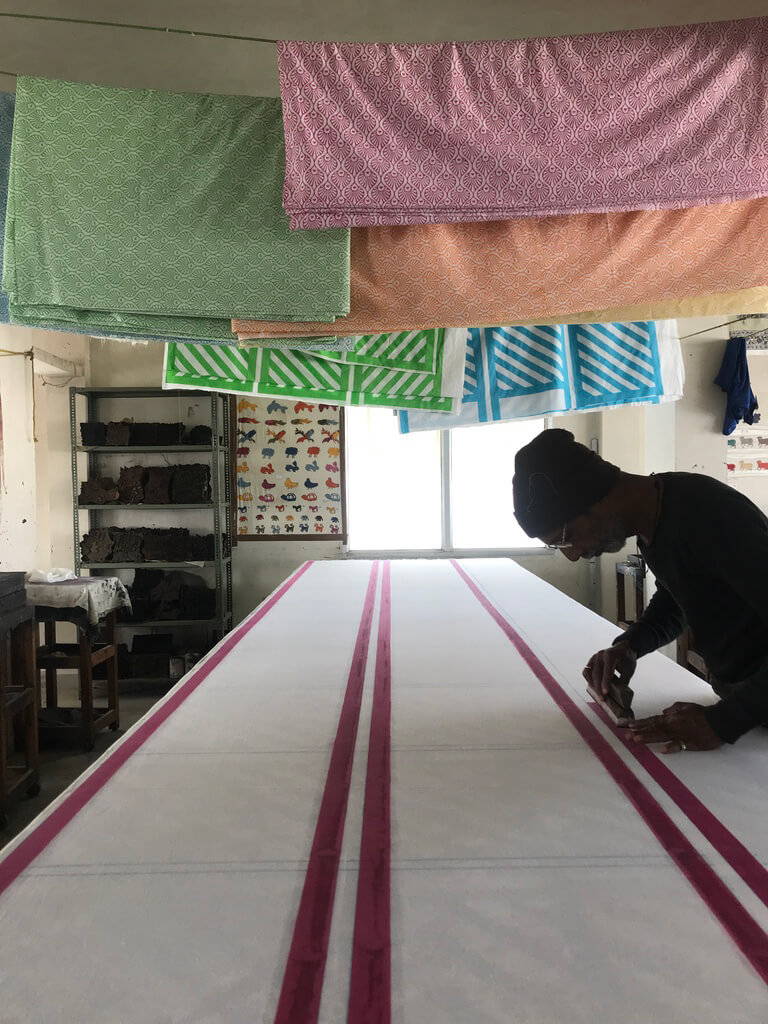 Masterji block printing our cushions in India
"Every piece in the range is a labour of love, a contemporary design made by traditional methods in Britain, India, and Bali."
A whole street of Balinese artisans have taken 6 months to make the bamboo parasols and block printers 4 months to make the cushions. The William Morris parasols use 24 screens to create the print. The stone bases are made by seventh generation stone carvers in Rajasthan and it takes 3 months for people to carve them.
These handmade products are very beautiful, but slow to create. They're a labour of love and we hope you love them too.